Blog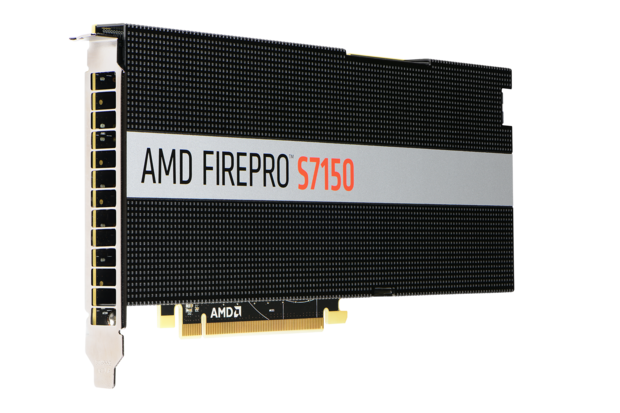 AMD has your back, if you have an under-powered PC but need the horsepower to see high-definition video or edit intense graphics.
AMD's new FirePro S7150 and S7150 x2 GPUs, which sit in servers, can deliver "virtualized GPUs" to client devices and remote desktops. A virtual GPU mimics the functionality of a GPU on local hardware, and users can run graphics, engineering or even VR applications on virtual desktops.
The virtual GPUs on remote desktops can do everything regular GPUs can do on a computer, AMD claims. The processing load of virtual GPUs is handled by the FirePros in servers.
Virtual desktops are becoming popular in businesses that are looking to reduce spending on PCs and secure data in centralized servers. Some examples include architectural firms, which are using CAD/CAM on remote desktops, and hospitals, which use it for medical imaging.
AMD's virtual GPU technology is important as thin clients have just basic processors to run virtual desktops. Today's thin client hardware aren't designed to run intense graphics applications, said Tonny Wong, product manager at AMD's Radeon Technologies Group.
The new FirePros can overlay virtual Windows desktops with virtual GPUs. Beyond business applications, it'll also be possible to run games and virtual reality applications, AMD executives said.
Users will be able to run games written in DirectX and OpenGL. The virtual GPUs will also support applications written in OpenCL, many of which are image- and video-editing programs.
The first servers with the new FirePros will come by the middle of this year. Top server makers are testing the hardware, Wong said.
The virtual GPUs for now will work only with VMWare's virtualization technology. Support for Xen and Microsoft's RemoteFX will come in the future, Wong said.
AMD has added instructions to enable the virtual GPUs. The technology runs on an I/O protocol called SR-IOV (single root I/O virtualization), which virtualizes the functionality of PCI-Express connected devices.
With virtualization, workloads can be provisioned among servers to balance system usage and power consumption. The FirePros, though, can't provision virtual graphics workloads among multiple GPUs in a server installation -- virtual GPUs are tied to specific FirePros. As a result, some FirePros could be overloaded while others are left idle.
how to remove FastBall 2.1.1 on Mac? Visit here to find out. 
related tags:
,
PC,
AMD,
GPU,
graphics
Comments